Women Camping Alone: A How-to Guide to the best of Central Arizona
Inside: A complete itinerary for women camping alone; safely explore central Arizona. Find recommended free camping sites and state park campgrounds.
Arizona is a lot more than The Grand Canyon and cactuses. A lot more, as I discovered on this loop around Central Arizona.
For me, Arizona has always been a drive-through state. On vacations, I cruised through Arizona as fast as I could on the Interstates, marveled at the heat and desert, and maybe stopped to wave at the National Parks. That is, until recently.
Embracing slo-mo travel
Now I am a slo-mo traveler. My new mission (with my converted Promaster Van) is to take the roads less traveled, stop and smell the (desert) roses, and relish the moment.
I recently applied my slo-mo strategy and took my time meandering through a two-week loop around central and northern Arizona. The state's diversity and beauty both surprised and enthralled me. As a bonus, I also discovered some of the best spots for free camping in Arizona to balance with stays in state park campgrounds.
Read on to learn more about these finds.
But first, a note on my camping strategy
I love boondocking on our BLM and NFS lands.
Ultimately, there is nothing better than finding an isolated, picturesque site to call home for a day or two, free of charge. However, sometimes there aren't any available or attractive public land options around, or I crave more civilization (and a long hot shower in a proper bathroom).
Also, as a solo-woman camper, safety is a big factor in where I choose to camp.
For this reason, I'm learning the best trips blend public land boondocking with stays at state and national parks. Membership programs, Harvest Host and Boondockers Welcome, fill in the gaps, offering unique places to camp safely for free in Arizona and beyond. This trip involved all three (boondocking, state park campgrounds, and membership stays), each with its specific advantages, which I'll describe.
So let's get to it!
Read on my solo-camping sisters, and I'll take you through my discoveries and recommendations for campsites, hikes, local places to eat, and fun spots for the perfect Instagram photo (follow me @TheOldLadyWhoLivedinaVan).
At the end, I'll also share my budget for this two-week tour through Arizona.
Day 1: Imperial Sand Dunes
The Imperial Dunes are not in Arizona, but in California's southeast corner, making it the perfect spot to land for a night on your way to or from AZ. You'll be 1 1/2 hours from Anza-Borrego State Park, 2 hours from Joshua Tree National Park, 3 hours from San Diego, 4 1/2 hours from LA, and only 15 minutes from Yuma, AZ.
The dunes are a perfect landing spot for women camping alone; you can find excellent, safe, and free camping.
Tips for free camping at or near the Imperial Dunes
The ISDRA is an OHV (Off-Highway Vehicle) recreation area where weekends and holidays get busy, so midweek is best if you're camping for a night. I stayed overnight on a Monday in September and was all by my lonesome.
Unfortunately, your National Park Pass does NOT work at recreation sites because they cost the government more to maintain. Therefore, at the ISD this means no fees between April 16 and September 30, but a $35.00 fee between October 1- April 15 if you prepay online.
Most of the official Imperial Dunes camping spots are north of Interstate 8 and south of State Highway 78. Take the west Gordon's Well Road Exit and drive north to the Cahuilla Ranger Station. Campendium has decent maps and information on these sites. The smallest (and also more popular) campground in the north region of the dunes is Keyhole. Desert USA describes all the camping options in greater detail.
However, the most accessible spot for an easy overnight, if you are just passing through, is immediately south of I-8, off the east Gordon's Well Road exit near the Buttercup Ranger Station. Buttercup campground is perfect for an off-season overnight. Even though the interstate and power lines are visible from Buttercup, if you park strategically you won't notice them. I felt perfectly safe as a woman camping alone.
If you want free camping between October and April, there are regular BLM sites along Ogilby Road and at the Tumco Historic Townsite. From this location, you won't have an excellent dune view, but you will have a nice view of the Chocolate Mountains. And the price is right. Ogilby Road is along the dunes' eastern edge, and the first stretch of road is within the fee zone, so watch the signs.
The pit toilets may be closed – call 760-337-4400 to listen to a recording describing what is currently open or closed. Be prepared to be self-contained.
Expect wind (that's what made the dunes after all) and blowing sand.
Check out the rules, and please follow them.
Day 2: Kofa National Wildlife Refuge & Black Rock City
Kofa National Wildlife Refuge was my next stop, not because I knew anything about it, but because it was only a couple of hours from The Imperial Sand Dunes, and it looked like it had a fun hike.
Now I know about it and it is THE BEST!!!
The refuge is more than half a million acres of wilderness, established in 1939 to protect the desert bighorn sheep and other native wildlife. It's huge.
Kofa rocked big time! The remote, rugged mountains jut magically out of the desert floor. They are a luscious deep brown, providing a gorgeous backdrop to the surrounding desert landscape.
Regrettably, on this day, I only stopped for a quick hike. However, I loved the spot so much I decided to return for an overnight stay at the end of my trip. For sure, now I'll stop there whenever I'm driving through the region.
Getting to Kofa
Kofa NWR is just off of Highway 95, a little more than halfway between Yuma and Quartzite. Beware, the road back to Palm Canyon is all dirt and gravel, with frequent sections heavily washboarded. Indeed, it was a slow, bumpy drive, but my Ram Promaster campervan made it no worse for the wear. I saw one large RV on my second visit, so it made it too.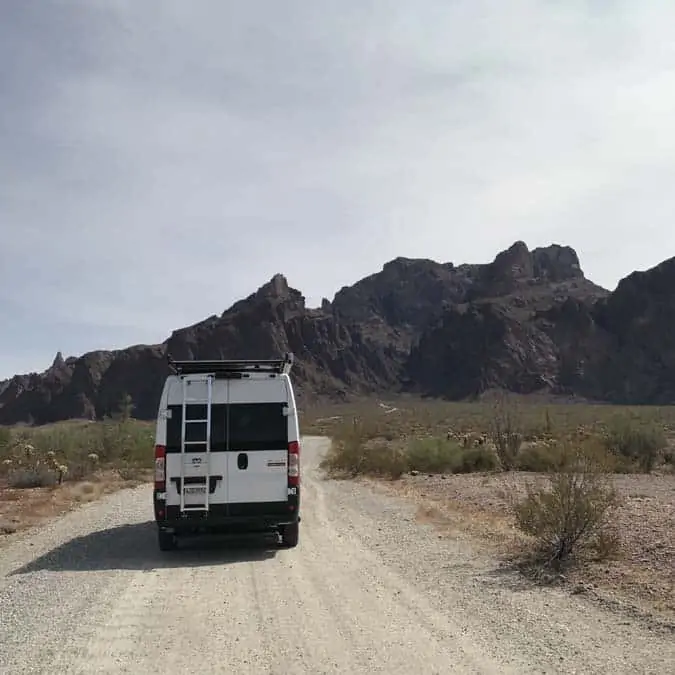 Click here for the pdf brochure on Kofa from the BLM.
Free camping in Kofa NWR
There are loads of BLM camping spots along the 7-mile road between Route 95 and the canyon. All are flat, spacious enough for larger travel trailers and RVs, and most have fire rings. You are also allowed to overnight in the trailhead lot, and the view is most spectacular there. Unfortunately, there is no perfectly flat spot to park, so, unless you like to roll out of bed, you'll have to level your vehicle.
Are you anxious about leveling your van? I've figured out an easy way to do it using a small ball and my dish soap bottle. Click here to learn how.
When I reached the Palm Canyon trailhead parking area, I was the only person for more than a 7-mile radius.
The views were spectacular. To the west was desert, with saguaro cactus and mountains in the distance. To the east was the looming precipice forming the walls of palm canyon.
Palm Canyon hiking
Click here for the brochure on Palm Canyon Trail. There's a lot of information in it, so I suggest you check it out – it will make it easier to find the palms (not that I had problems finding them…)
The Palm Canyon hike is short, and the trail is marked. It's out and back to a patch of California fan palms, the only native Arizona palm tree.
In addition, it's home to desert bighorn sheep. Now, I have a bucket list desire to see bighorn sheep in the wild. I've been to many places where they range and have stood for hours with binoculars trying to spot them. Therefore, when I saw the sign at the trailhead describing the sheep in the canyon I thought, "yeah, right – another opportunity to NOT see bighorn sheep."
So I packed up my lunch and set out to see the palms – because, unlike the sheep, they couldn't hide.
Finding yourself isolated from humanity can free your soul – and your voice. I only sing where no one can hear me, so I took advantage of the isolation I found in Kofa and started belting out tunes like a Broadway star (only out of tune). So much fun!
Bighorn sheep, oh my!
That's when I looked up – to find an entire family of bighorn sheep looking at me with complete confusion. To my surprise and pleasure, they stayed watching me for a while, the adults grazing, the youngsters frolicking about, and the patriarch making sure I kept a respectable distance. It was beyond cool.
Even after papa bighorn ushered his family behind a boulder, the kids kept peeking around to see if I was still there. I think they liked my singing.
You never know what you will find when you head out into nature; prepare to feel awed, humbled, and renewed.
The palms were harder to find than the sheep
I never imagined it would be harder to find those darn palms than to come across bighorn sheep. Back and forth, I hiked through the small box canyon, sometimes resorting to bouldering (and I don't "do" bouldering).
Finally, I found a flat spot with a sign and arrow and the word "palms." Assuming it was telling me the trail continued in that direction. So I dutifully continued in the arrow's path.
Checking my downloaded AllTrails map, it looked like I was off the trail. Fortunately, there was no way I could get too lost, as the canyon is small.
Well, I hiked and climbed over rocks and boulders for a good hour and still couldn't find a clear trail that went back to where I thought the palms were. AllTrails persistently showed me off-course no matter where I went.
Finally, I returned to the flat spot with the palm sign and let my eyes follow the arrow. Eureka! Those pesky palms sit in a slit in the canyon wall, and the sign's arrow meant, "LOOK HERE!" not "Hike here."
In the end, it was more exciting to find the bighorn sheep than the palms (my home base is San Diego, after all, and we have palms aplenty), but the hike was fun and ended up a lot more challenging than I planned. I've never seen myself as a climber/boulderer, but perhaps I am becoming one (a little).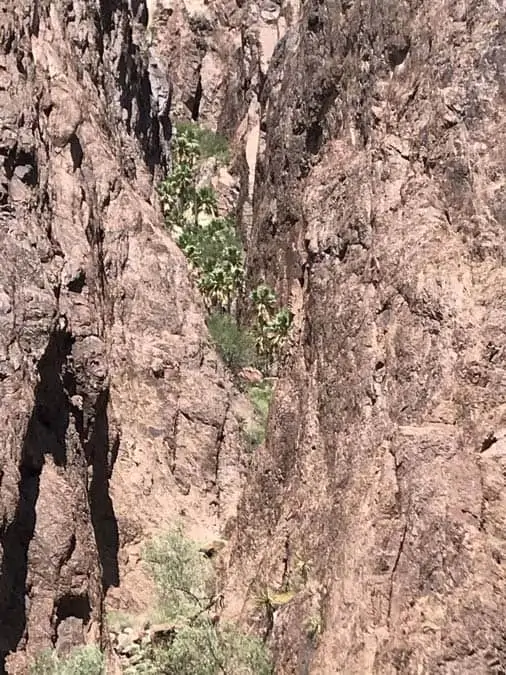 Next stop – Black Canyon City
My stop for the night was a little further on in Black Canyon City. It was my first time booking a free spot through Harvest Hosts, a membership-only program offering self-contained RVs and Vans unique places to overnight (farms, wineries, museums, and restaurants). In exchange for a place to safely spend the night, members are asked to buy something nominal from the host's business (in the $20.00 range).
There are loads of exciting (and safe) places to stay with Harvest Hosts, and for women camping alone, it offers a safe, economical option – as long as you are self-contained (have a bathroom – porta potty will do). In the south and east, where there's less BLM/NFS land available for boondocking, memberships such as Harvest Hosts can come in handy.
Staying at the Rock Springs Cafe
My landing spot was a large, flat, dirt, auxiliary parking lot next to The Rock Springs Cafe. I just pulled back to the rear, where I had a beautiful view of the sunset and lots of privacy from the road. A couple of cars came and went (I think this might be a local make-out spot), but I was pretty much by myself.
Best of all, I knew I would NOT be awakened by a knock on my door telling me to move. I felt very safe.
To keep with Harvest Hosts' request to purchase something from their hosts, I just went into the cafe, told them I'd arrived, and ordered a takeout dinner. My dinner was good but not as memorable as the PIE I had for dessert. Yes – get a slice of pie here, even if you don't spend the night.
I'm serious.
How to get some free pie
I take pie seriously. My mom taught me how to bake pie when I was little, and I set the bar pretty darn high. Well, I had perhaps the best slice of lemon meringue I've ever had. Next time I stop here, I'll get some pie for a snack and perhaps breakfast instead of dinner. Plus, if you sign up for their newsletter, you will receive a coupon for a free slice of pie!
Hiking in Black Rock City
In the morning I looked for a short hike to get my blood running before I got back on the road. A nice little loop path, the High Desert Trail, was nearby and had a botanical garden feel, with loads of well-labeled native plants.
Days 3-7: Getting to know Show Low
On to Show Low, Arizona
Don't you love the name Show Low?
Even more fun is the legend about how Show Low got its name. According to the story, two local ranchers played poker to determine who would take over a shared ranch. The card game came down to one player, saying, "If you can show low, you win." Corydon Cooley played the deuce of clubs, thus winning the ranch. The town's main street is named Deuce of Clubs in commemoration.
The Mogollon Rim
Show Low sits on the edge of the Mogollon Rim, which demarcates the southern border of the vast Colorado Plateau. The town also sits among the largest expanse of ponderosa pines in the country – who knew this was in Arizona?? Most native Arizonans probably know this factoid, I'm sure, but up until this trip, to this Iowan turned Californian, Arizona was all desert. Now I know better.
Plan to take some time in this part of the state, both around Show Low and the nearby White Mountains. It's gorgeous; there are scads of fantastic hikes, and no matter the season, the weather is reasonable because of the elevation (some roads do close in winter, so check the weather first).
I thought I would stay a couple of nights in the area, but extended my time to five.
Combining state campgrounds, membership programs, and public land boondocking
I split my camping in the Show Low region between a Boondockers Welcome host, Fool Hollow Lake Campground, and some NFS boondocking near Big Lake in the White Mountains' Apache-Sitgreaves National Forest.
Boondockers Welcome is a membership group I recommend for all women camping alone.
There's only one caveat – you must be self-contained, so tent campers and women without a portapotty onboard cannot join. If you do drive a qualified rig, though, you'll have instant access to thousands of free spots to stay 1-2 nights.
On this trip, I spent my first two nights in the private driveway of a Boondockers Welcome home. Just as the program promises, you make friends and have excellent, safe places to spend the night – for free other than the annual membership fee. That fee ($50.00) is low for what you receive. If you can serve as a host, the cost goes down to $25.00.
On this stay, I not only made friends, but I also met a long time Sisters on the Fly member (another excellent membership program for women camping alone, who also occasionally want to meet up with other like-minded women).
We shared stories, wine, and a meal. My hosts even gave me some tasty tomatoes and peppers from their garden as a parting gift.
Fool Hollow Lake Recreation Area and Campground
I used my time with my Boondockers hosts to get a lay of the land while I began exploring (they had great advice for local attractions and activities). There's so much to see and do in the area. I ultimately decided to park myself for a few more days and snagged three nights in Fool Hollow Lake Campground.
After four nights of boondocking, I was ready for some serious plumbing. A spacious hot shower, flush toilet, garbage dumpsters, and access to water hookups were just what I wanted.
Fool Hollow Lake Recreation Area has a gorgeous lake with walking paths and amenities. The campground is well maintained, clean, flat, and spacious.
This state park is one of the most popular in Arizona, so it helps to book ahead, even though I didn't and still got lucky – it's worth asking the rangers at the entrance. There's a $10.00 day-use fee for non-campers. I had to move to a new site each day, but that is no big deal with a van.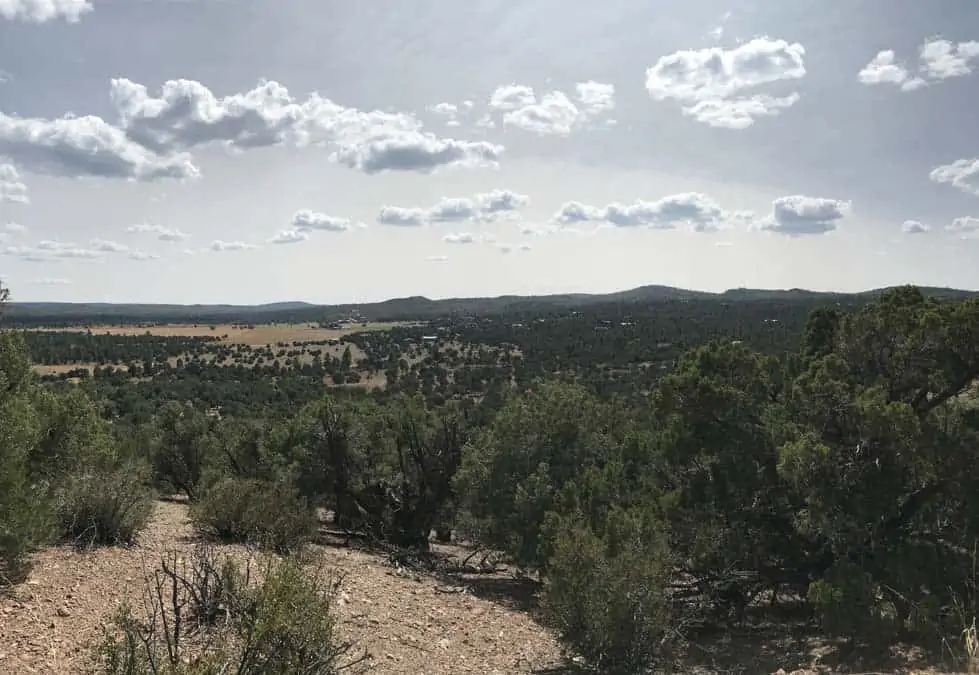 In addition to hiking around the lake, I did a longer hike, Ghost of the Coyote Trail. I did an out and back of about 4 miles, but the full trail is 13 miles with amazing views.
The best short trek trail I found was a loop trail along the Mogollon Rim.
Walking along the Mogollon Rim path, overlooking the vast ponderosa pine forest, I immersed myself imagining the days Apaches dominated the region and rode through on these very trails. I could see why this area was so important to their culture and livelihood.
Days 8-9: Apache-Sitgreaves National Forest
After a few refreshing days at an organized campground, I was ready to head back out to the wilderness. I found perfect dispersed camping sites in (or around – I wasn't clear if it was technically in the NF) the Apache-Sitgreaves National Forest, just off of Highway 273 on FR409; north of Basin, Crescent, and Big Lakes; and not too far from Greer, AZ.
This area is a glorious patchwork of pine forest, alpine meadows, and grasslands.
There were plenty of big rigs camped out in the area, as well as tents and smaller rigs like my van. Even with its apparent popularity, I was able to find sites where I saw no other campers and heard only the sounds of nature. As a woman camping alone I felt perfectly safe here.
There are too many hiking trails to list in this area. Just bring up nearby trails on AllTrails, and you will find a perfect hike for you.
Covid updates: Covid is raging while I write this. The Apache, Navaho, and other Native American lands and reservations are closed to tourists. Anticipate detours and check before you plan to visit popular Arizona tourism sites located on Native lands.
The Rendezvous Diner, Greer, AZ
If you are like me and enjoy trying out local restaurants, before you leave the area, stop at the Rendezvous Diner (117 Co Rd 1120, Greer, AZ 85927) for a delicious breakfast (or lunch). I budgeted for a few local eats along the way, and this stop was worth it.
Days 10-12: The Petrified Forest, Homolovi State Park, and Winslow
My time in the mountains and ponderosa pine forest was over, and it was time to head back down to the desert.
I visited The Petrified Forest way-way back during a massive 16-state road trip I took with 6 of my children. Those were the days I had limited vacation time plus the endurance to drive ten or more hours in a day. No more.
Below is a photo from that fast-as-lightning drive-through made 20 years ago. The shadows are getting longer and the park closed at sunset. We made it through the Crystal Forest and that was about it. But we had fun. our vacations remain our favorite family memories.
Rather than another blow-through visit, I was determined, this trip,to explore the park in its entirety.
Take two days to see the park
My recommendation is to take two days to see all the sites and complete the short hikes in these combined National Parks. I arrived early afternoon and entered via the north entrance, so had time to see about half the park, before I left for the day.
Click here for a map of the park.
On my first day, I made all the stops from the entrance down through Blue Mesa and then drove on to the south exit, calling it quits for the day.
The next day I returned, entering from the south and driving back up to Jasper Forest to start the second half of my trek through the bottom half of the park. I had time to explore all the sites and not feel rushed.
If you only have one full day:
Stop at one of the views over the Painted Desert,
Stop at the Route 66 auto for a photo op,
Catch the petroglyphs at Puerco Pueblo,
Cruise slowly through the Tepees,
Take your time to hike around Blue Mesa (my favorite in the park),
Explore The Crystal Forest.
If you have time and like a longer hike, include the Long Logs and Agate House.
Time constrained? Skip to the Giant Logs and Museum/Visitor Center.
Very time-constrained? See these three sites:
One Painted Desert overlook
Blue Mesa
Crystal Forest or Giant Logs
Petrified Forest photo gallery
Whether you take one or two days to explore The Petrified Forest, you'll need a place nearby to spend the night.
Free RV/Van overnight parking outside Petrified Forest
There is free RV camping in the parking lot of a store outside the south park entrance, where it joins Highway 180. It isn't pretty, and it gets rather crowded, but it's convenient and it's free camping in Arizona. If you're camping alone it is a safe option for the night.
Homolovi State Park Campground
If you want something a bit nicer (I was ready for a shower again), try Homolovi State Park about an hour west on I-40, near Winslow. The campground is far enough from the interstate you don't hear or see the traffic, but close enough to make it very convenient. Plan some time to walk through the Hopi ruins preserved in the park.
Homolovi is a desert park, and the sites, while well-spaced, don't hide you from other campers. But the campgrounds are clean, quiet and the bathrooms and free showers clean and well maintained. Cell coverage was great, and the price was reasonable (I had site 41 at $18.00/night). Again, as a solo-woman camper, I felt extremely safe and also had good cell coverage – good enough to set up a hot spot and stream some live TV.
I used my time here to take showers, fill up my water, dump my grey tank, and dispose of garbage.
The hikes in Homolovi are sandy trails through desert. A nice bit of exercise but not the most scenic of this trip. What I did appreciate, were the two Hopi ruins that are preserved in the park.
Like all our state and national parks, look but don't take. I enjoyed seeing all the pottery fragments visitors have found and put on display for others.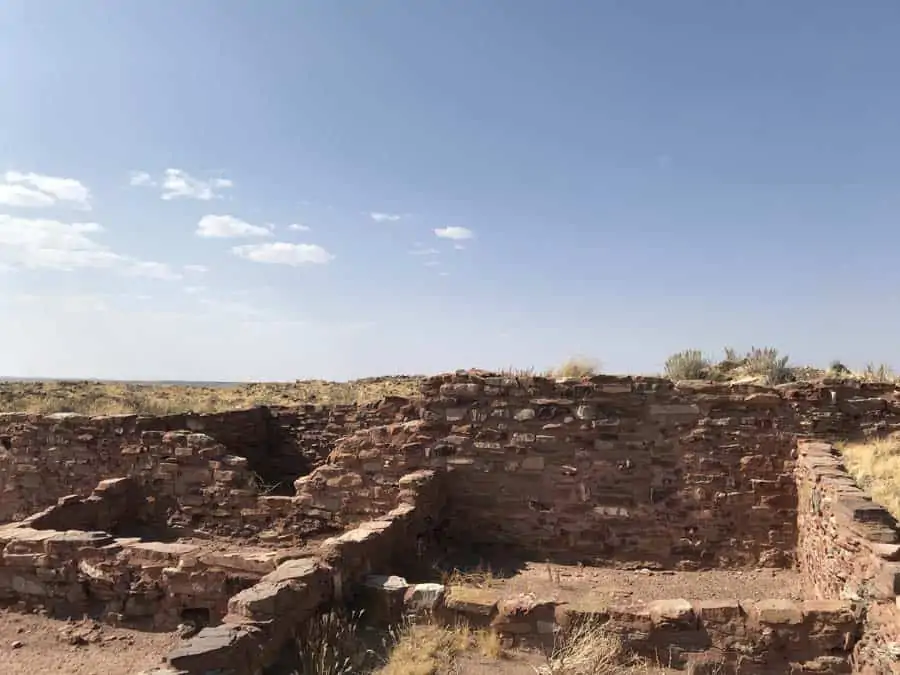 Make sure to pass through Winslow for a musical interlude
Do you remember me saying Homolovi is close to Winslow, AZ?
You HAVE to stop in this cute little town and play your retro music loud. There is a not-to-be-missed photo op "…standing on the corner in Winslow, Arizona." Don't forget to play your Eagles Greatest hits while you're there.
Better yet – tune in to one of my Old Woman Who Lives in a Van road trip Spotify playlists. There is a shortlist just for Arizona that even includes some Navaho and Apache music to set the mood. The list mostly has a collection of eclectic tunes (vintage rock, country, and indy) that I hope you'll enjoy. Then there is the ultimate LONG list. The long list has a full 6 1/2 hours of great road trip tunes that will have you singing out loud (just in case you want to entertain some bighorn sheep). Can you tell I was a DJ in a former life?
The Old Lady Who Lives in a Van Playlists
Music interlude over – back to the trail
While in Winslow, I found a little farmers market and picked up some homegrown veggies to replenish my stores. I also found some delish home-canned hot sauce, pickles, and jam.
Local markets are one of my favorite road-trip activities. You can always find great treats to add to your food stores, and it's a perfect occasion to ask a local vendor for recommendations on local sights and things to do (it's how I found the best ice cream in Winslow).
While in Winslow, I decided I HAD to have some ice cream (it was hot and I'd hiked a lot, after all), and thanks to some vendors at the local farmers market, I knew The Sipp Shoppe (just across from THE corner) was the best in town.
It was a perfect evening, sitting outside the cafe, people watching all the Eagles' fans, and Route 66 tourists stopping for a photo. It's my age demographic, for sure.
Day 13: Sedona
I loved my time down in the desert, but I was ready for a change in scenery: next stop, Sedona.
Sedona is less than a two-hour drive from Homolovi State Park, yet a striking change. Once you cut off I-40 onto AZ-89A, the red rock and forest pop up.
The early bird gets the parking spot at trailheads near Sedona
I thought about stopping for a hike at one of the many trailheads along AZ-89A, but the parking lots were utterly jammed – on a Monday! If you want to fit a hike in, I suggest getting an early start (I drove through midday).
Sedona is crowded and congested- be prepared. After a couple of weeks in relative solitude, it was a bit claustrophobic for me. I just stopped at a local grocery store to reprovision and headed south out of town to look for a boondocking spot.
Boondocking near Sedona – perfect for women camping alone
About 10 miles south of Sedona on AZ-89A, you'll find FR525 or Loy Butte Road. Boondocking is popular here, and there are dispersed sites all along its length. I saw plenty of large rigs, and while the road is bumpy in places, my 2WD van with relatively low clearance made it OK. Just drive slow.
The key to this very popular spot for free camping is driving back at least 6-7 miles. The views and sites just kept getting better. Some places had small gullies to cross over at the road's edge, and I passed on those. There were plenty accessible to a van.
I stayed on a Monday night, and about half the sites were taken by mid-afternoon. I have read that the weekends fill up, and the area can become party central, so be aware. On a weeknight a found it quiet and a safe place for solo-camping.
Something is healing to the soul to wake up and drink your coffee while taking in such a view.
Days 14-15: Jerome, Prescott National Forest, and back to Kofa
Jerome, AZ and conquering scary mountain passes
With my soul restored, it was time to test my mettle and show some courage. I am afraid of heights. Mountain driving pushes my limits.
A few years ago, I was a passenger while my son drove through a nearby town – Jerome. This historic mining town looks to me like it is hanging on for dear life to its mountainside foundation.
I wanted to see if I could do it. Well, as I am a solo-woman traveler, failure wasn't really an option. I guess my ultimate goal was to do better managing my fear and anxiety.
And I DID IT! I made it up that mountain and walked around Jerome. As a reward for accomplishing what I could not have done a few years ago, I stopped and treated myself to a lunch out – a lunch with a view.
My plan now was to head back to Kofa for a final night camping – right back where I started.
I regretted that decision. Not the going back to Kofa part, but the driving it in one day part.
Prescott National Forest
While I triumphantly made it up the mountain to Jerome, I didn't consider the rest of the drive. The next leg of the trip was south through Prescott National Forest. More mountains. Very scary mountains.
I learned this lesson: Driving DOWN mountain passes is scarier than driving up.
The south route on AZ-89A through Prescott National Forest even makes a list of the seven most terrifying drives in Arizona. It does! I'll attest to the fact that this is a SCARY road.
Did I say it was a scary road?
Note to self – Before traveling Google "scary roads and bridges in – enter state or location." Be prepared.
Unfortunately, while I prepared myself for the precipitous drive up to Jerome, I did NOT prepare for the next leg. It was a nightmare.
What do you do in situations like this?
If I made it down that grade, so can you!
Should'a, would'a, could'a…
I SHOULD have found a spot to camp near Prescott for a night and spread out my driving. Jerome to Kofa NWR, where I was heading, was almost 4 hours – more than my daily goal of 2-3. After the mountain pass, I was tired, and I felt it in my driving.
Finally, I made it down to I-10, almost to my destination, but the interstate driving was also horrible! Interstate driving is never hard for me, which showed me how much the mountain pass tired me.
It's a good thing there is no video of me on this stretch – it would have captured me yelling, "STOP IT!" at the tenth semi in a row to pass me in a gush of wind.
You will face hard situations
Solo travel will test you! Be ready.
Certain roads and experiences will catch you by surprise. Reflect on those experiences, and plan strategies that work for you to get you through them, the NEXT time. After all, no matter how old, we still learn.
That's why we are doing this, right?
Full circle, back to Kofa
At last, I finally made it back to Kofa, absolutely exhausted and proud of myself for the hard work. My treat for this accomplishment was a taste of comfort food – creamy mac and cheese made in my Hot Logic Mini. Yum.
I do most of my cooking in Hot Logic Minis (I have more than one). It's perfect for camping alone – even if you only have 12-V power. You can read more about this gadget and find some recipes here.
Of course, because I was looking, the bighorns eluded me on my return visit, but the scenery, sunset, and solitude restored my mood. I love this place. It was a perfect ending to a magical trip.
Cell Coverage
In general, cell coverage was available everywhere I went on this trip. Like many people on the road, I have two phones. One is ATT, the other a GoogleFi. Between the two I received strong enough signals to set up hot spots everywhere I stayed. However, the boondocking spots sometimes had spotty reception, but if I moved around a bit I found good signals.
Google map of the route
Trip budget
So how much did this trip cost? Just over $700.00, or about $47.00/day for 15 days on the road. My budget includes some meals out, as I like experiencing local diners and regional foods. In addition, my budget accounts for some postcards and stationery I bought as souvenirs at the National Parks.
My van is stocked with the basics and some foods – like home, so these grocery costs are what I bought for this trip and to resupply staples. Further, I am not including any baseline costs such as insurance, van maintenance, etc.
Central Arizona Trip Budget
| Item | Cost ($) |
| --- | --- |
| Gasoline (15.5 mpg) | 255.11 |
| Campgrounds | 170.00 |
| Food/Supplies | 99.91 |
| Dining out (6 times) | 140.34 |
| Souvenirs | 36.05 |
| Total | 701.41 |
| Cost per day | 46.76 |
If a person did this trip bare bones – no eating out, less expensive groceries, no souvenirs – but still balanced boondocking with campgrounds, the cost could go down to ~$30.00/day. If you ONLY boondocked, $20.00/day is possible.
Fortunately, gas is very inexpensive in Arizona, less than half the price than in California, where I have my home base. On this trip, I bought all my gas in Arizona.
Where next?
Now you've come full circle, and have returned close to your starting point. Where should you go next? This corner of Arizona, near Yuma, is a perfect place to start your exploration of California. Head back to the Dunes, or go a bit further to Anza-Borrego State Park, or head up to Joshua Tree National Park.
Where ever you head, slow down and enjoy the journey!
I want to hear from you
I appreciate every one of my readers. My passion is to provide you information that will help empower your travel. However, as a woman who camps alone, my opportunities to engage with others are limited. That's why I want to hear from you!
It inspires me to keep writing when I see the comments below. Share your favorite spots to camp in Arizona – I'm eager to explore them too. What scary drives do you avoid? What is YOUR strategy for driving alone over precipitous mountain roads or ominous bridges? I can't be the only one afraid of mountain roads and bridges, am I? Finally, let me know if there's some topic you want me to write about- I'm listening!
Just write a comment below, or drop me an email. I read every comment and correspondence I receive.