The Best Urban San Diego Trail You Need to Know About When You Visit
The most unique of San Diego trails is The 7-Bridges Hike. Starting in Balboa Park you follow a 5-mile loop through 3 funky, fun San Diego neighborhoods.
This urban trail in central San Diego is, by far, one of the best ways to get to know the vibe of "America's Finest City." It is one of the first things I share with out of town visitors.
America's finest city?
How DID San Diego get christened with the moniker America's Finest City? According to the L.A. Times (surely the expert in all things San Diego), our former mayor, Pete Wilson (mayor from 1971-1983), is responsible. He likely took liberties from Look Magazine, which named San Diego one of America's finest cities.
No matter how the nickname came to be, The Seven Bridges Hike is one of the finest of all San Diego trails. Few tourists, or even locals, seem to know about this hike, yet it remains one of the best ways to explore several neighborhoods near downtown. An added benefit? It is mostly flat. If you have walked much in San Diego, you know we have hills. Lots of hills. This hike is mostly flat and pretty accommodating for most ages and abilities.
The Seven Bridges Trail is a loop, approximately 5 miles from beginning to end. While the trail itself is exciting and fun to traverse, without a doubt, one of the features I enjoy most is the opportunity to stop for coffee or a meal about half-way through.
But I'm getting ahead of myself. While you can start at any point along the loop, my preferred starting point is near the San Diego Zoo in Balboa Park. If you have a car, the zoo parking lot is free, and there is almost always a spot, especially in the morning — which is when I recommend taking this hike.
From the zoo parking lot, head south into Balboa Park. Just meander around, moving south and west taking in the old Spanish architecture left over from the 1915 World's fair. Case out the museums and botanic gardens, in case you want to stop in and tour one or more after your hike — if you still feel like walking. San Diego's famous Prado restaurant also resides here in the center of Balboa Park and is an ideal place for a late lunch or dinner after you complete the trail.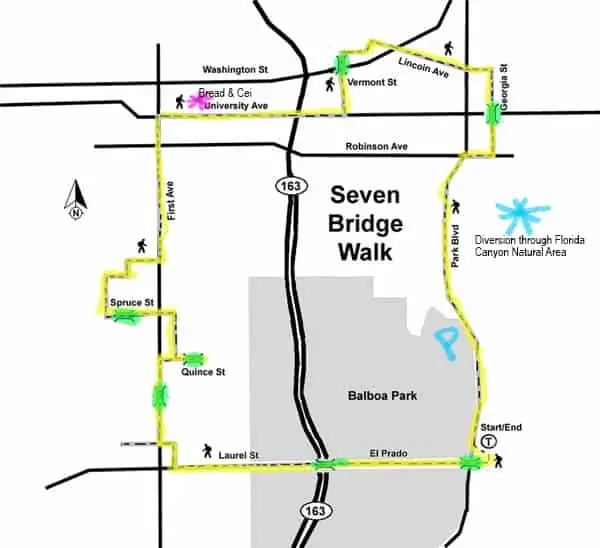 # 1 The Park Blvd Bridge
But first, you need to walk the trail. Head west out of Balboa Park over the first bridge, the Park Blvd Bridge. This bridge spans the 163 freeway, and you can see some of the canyons San Diego is famously built upon. Moreover, you can see all the way out to the bay and watch planes come close to clipping the tops of buildings as they land at Lindbergh Field. Wave at passengers flying into the city. The Park Blvd Bridge is the first multi-arched and cantilevered bridge in California.
#2 First Avenue Bridge
The First Avenue Bridge is in a little-walked, but lovely neighborhood called Banker's Hill, just north of San Diego's downtown business district. You will meander by many stately, historic homes initially owned, I presume, by bankers. I never follow precisely the same path as I get into Banker's Hill, as I enjoy seeing the diversity of homes and landscaping. This neighborhood is usually not seen by tourists as it is someone away from main thoroughfares.
But back to The First Avenue Bridge. For architecture and engineering buffs: this is the only steel truss bridge in San Diego and spans the Maple Canyon Open Space. Spaces such as this are dotted throughout San Diego and provide wildlife corridors as well as ample hiking and biking trails. San Diego is all about hill, canyons, and mesas, and this walk will give you a real feel for this.
#3 Quince Street Bridge
You now get to some of my favorite bridges on the hike, both of which are pedestrian bridges non-locals don't typically know about. The Quince Street bridge is a wooden bridge first built in 1905, reportedly for $805. I love the little library at the east end. To continue, backtrack west over the bridge, taking in another canyon view, and head to the next pedestrian bridge. Actually – walk back and forth a few times – this is a fun little bridge.
#4 Spruce Street Suspension Bridge
The Spruce Street Bridge is my favorite. I have taken friends on this hike, even native San Diegans, and if they don't live in the neighborhood, they are usually unaware that this little gem exists. Walk across, bounce, and view another canyon.
Keep walking and exploring The Banker's Hill and Hillcrest neighborhoods – I am not exactly sure where the borders are. As you walk, you will move into a more populated urban community and eventually reach University Avenue. Head east on University and look for a place to take a break.
This approximate midpoint of the hike follows University Avenue through Hillcrest, home to some of the city's most exciting and delicious restaurants. Consequently, I typically stop for breakfast, or at least a coffee at my favorite stopping point, Bread and Cie. Sit at an outside table and do some people-watching in this eclectic neighborhood.
#5 The Vermont Street Bridge
Once you are satiated, you can continue on your Seven Bridges Hike, or grab a ride-share back to Balboa Park. I always keep walking. Head east down University, taking a left at Vermont. You will pass over a third pedestrian bridge, and the 5th bridge of the hike. Take your time viewing all the embellished quotes in the side rails along the way. This is one of my favorites. I hope you wore sensible shoes!
Only two bridges left. After crossing the Vermont Street Bridge, you'll walk through a humbler neighborhood compared to Banker's Hill. The houses are still pleasant to view, though. Spanish or mission style bungalows and cottages are prevalent.
#6 University Street Bridge
The second-to-last bridge is just a short cement bridge spanning University. You are now heading back towards Balboa Park and walking again through Hillcrest. If it's Saturday, you'll walk past the famous Hillcrest Farmers Market. If you are still hungry or thirsty or need some provisions, it's an excellent place to shop. This is San Diego's first and most extensive farmer's market.
Time to head back to the seventh and last bridge of the hike and Balboa Park. The official map takes you down Park Blvd on the east side of Balboa Park, but I recommend diverting to the east a bit and walking on the trails through Florida Canyon. After the city streets, you'll feel like you have ventured into the wilderness. Turn west near the end of the canyon and follow switchbacks up the hill to Balboa Park, walking through the beautiful cactus garden and emerging into the rose garden. Stop and smell the roses before walking across the last arching pedestrian bridge over Park Blvd and into Balboa Park.
Once back in Balboa Park, you can congratulate yourself on completing one of the most unique of San Diego trails. You can now return to your car or explore the park. Time to explore a museum, sample food from a street vendor, or relax at The Prado with a drink or meal. You logged 5+ miles — you earned it!