Make the Best Date Bread Ever and Celebrate California
Inside: My Aunt Betty's date bread recipe (nuts optional) and how it is a shining representation of the bounty we receive from California's deserts. This recipe works with GF flour.
The aroma of fresh date bread baking in the oven guarantees an uptick in traffic through the kitchen, traffic that increases in proportion to the intensity of the enticing deliciousness wafting from the oven.
It's nearly impossible to wait until the loaves cool before they are sliced and devoured. And yes, this bread freezes well, according to my Aunt Betty, but no loaves in my home have ever lasted long enough to freeze.
Yes, this date bread is really that good.
This one is for you, Aunt Betty
My Aunt Betty was part of a mass migration of midwesterners to California in the late 1950s. Well past the dustbowl, 1955-1960 saw more than 36,000 Iowans pack up and move west to join the growing economy in California. My Aunt Betty, still a teenager and married to my Uncle Bill, joined the throng and set up home near Los Angeles.
That migration forever changed the way my family ate. Aunt Betty, on her regular sojourns back to Des Moines (where I was growing up), as well as during our family's treks out West, introduced us to California's spectacular bounty.
One of the California foods Aunt Betty introduced to us was dates – in the form of her famous date bread.
Her date bread recipe celebrates the best dates grown in the world. East of LA lies the Coachella Valley which, during the 1890s, started growing dates in its desert climate. Over 6500 acres produce more than 40 million pounds of dates in this valley.
My favorite date, and the variety I recommend for this recipe, is the Medjool, although any date can be used.
Prepare for some gastronomical tourism
When I travel I go all-in. To get a true feel of a region, I research, prepare, and eat as many regional foods and meals as I can. Recently, I ventured out to Joshua Tree National Park, and while I prepped for that trip I made and ate date bread. Although I planned to take along a loaf or two, my stash was devoured within a day. Alas, I had to make do with paying homage to the date farmers as I drove through Coachella Valley towns along the way to Joshua Tree.
We also love date shakes. If you have never heard of these, cue up the old show Bothers and Sisters starring Sally Field. Any family crisis (and there were a LOT) led to the sibs consoling themselves at their family's favorite date shake stand.
When you are out near Palm Springs or Borrego Springs, or another California Dessert town, look for a locally owned ice cream shop. Most serve date shakes, and you really should try one – or make your own, serve it with a slice of date bread and call it a "date night."
But I am straying…
A few notes on this recipe
Before you make Aunt Betty's date bread note a few things:
The dates need a good soaking. Set the dates to soak the night before or early in the day before you start baking. I know – it's hard to wait, but trust me it's important. The soaking tenderizes the dried dates and the soak water transforms into a luscious date brown color. this both colors and flavors the bread.
You can bake the bread in just about any pan, but my favorite are these mini-loaf pans. I like the size slice you get from these loaves plus they take less time to bake – so the time from concept to mouth is shorter. Honestly, every minute counts here – you will want to eat a slice ASAP.
If you don't have loaf pans don't worry – bake it in anything. I keep meaning to try it in muffin tins but haven't yet – I'm sure it will work. If you are wondering how pan-volumes compare click here for one of my favorite food blogger's conversion charts.
Baking times with this bread vary so check for doneness before you take the date bread out of the oven. An inserted toothpick should come out dry.
A good general-purpose Gluten-Free flour can be substituted.
Naturally sweet, dates are high in fiber, potassium, and several essential minerals.
And if you want to try some other California foods think citrus and put this blueberry orange loaf cake on your too-bake list.
So let's bake
The dry and wet ingredients are first mixed separately, then combined. Below you can get a hint of the deep golden brown color the dates give the soaking water.
I also like the way the egg yolks look like eyes peering out. Eeks – it's alive!!!
When combining wet with dry ingredients, make a hole in the center of the flour mix as shown below.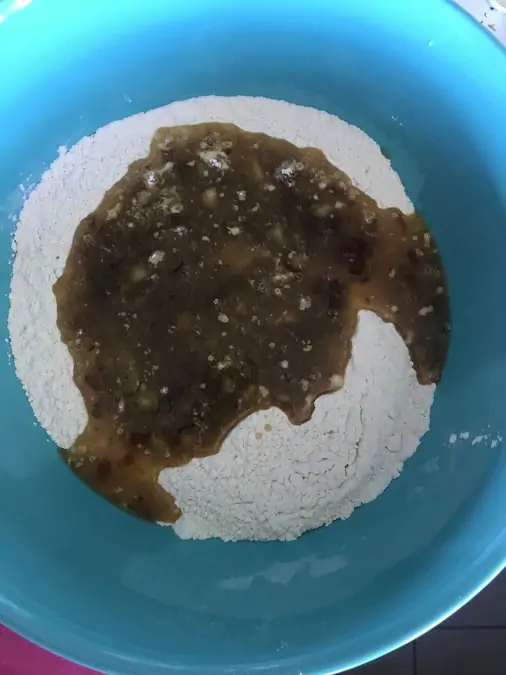 Here is a picture of a fresh loaf, straight from the oven. Something is wrong with it, can you tell? Well, I got in a hurry and used my eyeballs not a toothpick to check for doneness. Yep, do as I say, not as I do. The very top is doughy and wet – so glad I was not being evaluated by The Great British Bake-off judges.
For us it really didn't matter though, because we love batter and dough even more than the finished product.
Date bread is better with butter (nuts)?
In my opinion, date bread (any bread) is better with butter. My kids mostly disagree and eat it plain. You decide. Cream cheese is also a decadent topping.
Same with nuts. I think California walnuts are a perfect addition, but not my kids. SO I sometimes mix a few nuts into one loaf. Usually, that means I can claim the nut loaf all to myself, but not always.
Date Night
The last time I made this bread my kids and I enjoyed family "date night.". Date bread with date shake chasers for dinner. We don't partake in this kind of decadence very often, but it's fun to splurge now and then. Schedule a "date night" with your loved ones soon! Enjoy!
Print
Date Bread
---
Author:

Total Time:

1 hour 30 minutes

Yield:

4

5

1

x
Description
The best date bread EVER, courtesy of my Aunt Betty and California dates.
---
1 cup

dates, chopped(about

10

California grown Medjool)

2 cups

boiling water

2 tsp

baking soda

1 cup

chopped nuts (optional)

2

eggs, beaten

1 2/3 cups

sugar

2 tsp

baking powder

3 3/4 cup

all-purpose flour

4

T vegetable oil

1 tsp

vanilla
---
Instructions
Mix chopped dates with boiling water and add the baking soda
Set aside overnight or for about 8 hours. This improves the flavor, texture, and color of the bread
Grease and flour 4-5 mini (~5.5×3 inches) or 3 large (~9×5 inch) loaf pans
Preheat oven to 350-degrees F
In a fresh bowl mix flour, baking powder, and sugar
To the date/water mixture, add eggs, oil, and vanilla
Make a hole in the center of the dry ingredients and add the wet ingredients
Mix until combined, but not more.
Divide batter evenly between the greased and floured loaf pans
Bake for 30-40 minutes (mini-loaves) or 55-60 minutes (large loaves)
Because loaf size may vary, check for doneness by inserting a toothpick into the center of the loaves. They are done when the toothpick comes out dry.
Cool for 10 minutes before removing from pan.
Bread is ready to eat, wrap, or freeze when it is still slightly warm.
Serve or wrap in plastic wrap or foil.
This bread freezes well.
Prep Time:

30 minutes

Cook Time:

1 hour

Category:

Blog, Food & Recipes, Life Journeys

Cuisine:

American
Nutrition
Serving Size:

1 slice

Calories:

105.29 kcal

Sugar:

10.76 g

Sodium:

75.91 mg

Fat:

2.27 g

Saturated Fat:

0.31 g

Trans Fat:

0.0 g

Carbohydrates:

19.95 g

Fiber:

0.89 g

Protein:

1.93 g

Cholesterol:

7.11 mg
If you are new to SSSNOOlife welcome! Please consider joining my blog mailing list so I can let you know about new posts right away. I never sell or misuse you information – ever.