12 Outstanding Books That Will Make You Feel Like a World Traveler
Reading the world, one book at a time. Join the challenge, Part 1
This post may contain affiliate links. See my disclosures here.
I can't take it anymore!
Even though I'm a dedicated introvert, this home lockdown is leaving me pacing around like a caged wolf. I know it's for the greater good, and my personal safety, but my wanderlust is calling to me. It is time to hit the road. After all, I was supposed to have my Glampervan this week. This post was supposed to be written from my van roof deck while I camped in Death Valley.
Not happening.
Who even feels like planning a trip, let alone setting out on one?
There must be alternatives?!
There is an alternative – reading the world
For me, the alternative is literary tourism, or "traveling" with a great book and my imagination, to distant and exotic lands. Some authors excel at writing well-crafted descriptions of settings. They are masters at creating a strong sense of place. Their language is so vivid all your senses go on high alert.
While a good book always tells a compelling story, not all books create a strong sense of place. So strong you feel the icy cold wind and frozen sleeping bags of the polar explorer. Or, you perceive yourself stranded in the arid desert setting of a tale, so much so your throat feels parched, and you reach out for a sip of refreshing water. Or you swat at invisible insects swarming around your face while you read a tale set deep in the Amazonian jungle.
A book with a strong sense of place takes you on a literary journey; it conveys the environment so thoroughly that your imagination experiences the sights, smells, and sounds of a place you have never visited. Sometimes, you may "experience" a destination with more clarity than if you traveled there in real life.
Let's face it, even if we are experienced global travelers, few of us will ever thoroughly immerse ourselves in the cultures of our travel destinations. We either don't have time, or we are with a group of tourists viewing the highlights and photo-ops.
Books can transport you to those elusive places.
In recent years, I've pushed myself out of my traditional book choices. Instead, I have become intentional with the books I pick up. I love to travel and experience new cultures but I realize I am never going to make it to even a fraction of the destinations on my bucket list.
But I am determined to travel to those destinations in my imagination.
A few years ago, I set a goal to read a book from every country in the world. It's going to take me a while, but each year I read at least one book from every major world region. While on this reading the world adventure, I've encountered many little known books with descriptive writing so unforgettable that by the time I finished the book, I feel like I traveled to the destination.
What is unique about these books? Besides transporting me to distant lands with their descriptive language, they are so intriguing they drive me to my computer to look up maps, images, regional dress, songs, foods – anything I can find about the setting.
Of course, some books are set in destinations I never considered visiting, but by the time I finish the book, I am ready to book a trip. On the contrary, other books take place in destinations so harsh or remote I know I will never visit; I am happy vicariously experiencing those destinations.
I want to share these books with you
Let's go on an around-the-world tour together.
I have picked 12 books for this challenge, each from a different region of the world – that translates to one per week for about 3 months or one per month for one year. If you tackle these books, you will complete a global journey.
Oh, the places we will go!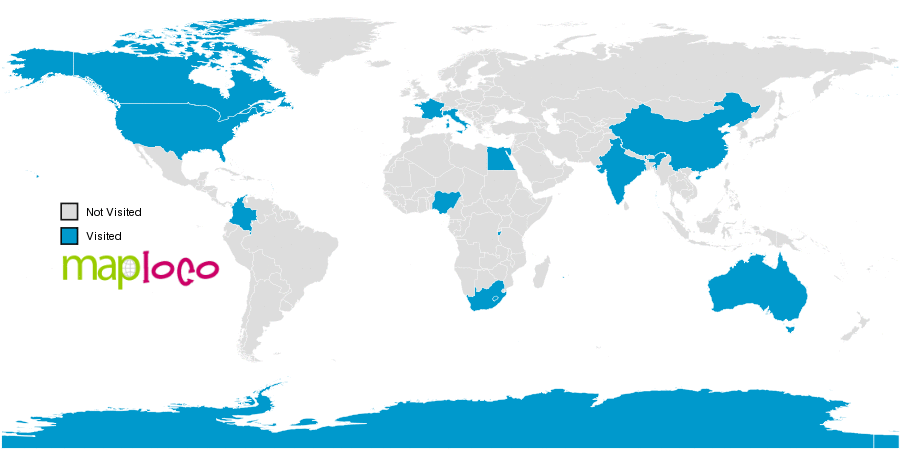 Create Your Own Visited Countries Map
Let's do it! Let's read our way around the world together.
To help you keep track of your reading, I created a printable checklist. Consider this Part 1. I'll start another list in about 12 weeks. Whether you have time to read one book every week or one book in 12 weeks, please come along on the journey.
Most of the books on this list are available in print, e-book and audio formats so you pick the format that works for you.
"Travel makes one modest. You see what a tiny place you occupy in the world."

― Gustave Flaubert
Polar regions – Antarctica
Let's begin reading the world with the polar regions. I seriously do not do cold. I spent too much of my life in the Midwest and am done with snow. But occasionally I need to remind myself why.
No other book conveys a sense of just how cold and desolate the polar regions are than this memoir, aptly named The Worst Journey in the World. I listened to an audio version of the book and couldn't believe the book is nearly 100 years old.
The Worst Journey in the World, Antarctica 1910-1913. Complete, Unabridged & Illustrated. Volumes 1 & 2.
by Apsley Cherry-Garrard
Published by
CreateSpace Independent Publishing Platform on April 22, 2011
Pages:
400
Buy on Bookshop
Goodreads
Cherry-Garrard's The Worst Journey in the World is a gripping account of Scott's expedition gone disastrously wrong.

Cherry-Garrard was the youngest member of Scott's team, the author was later part of the rescue party that eventually found the frozen bodies of Scott and three men who had accompanied Scott on the final push to the Pole. Cherry-Garrard's account is filled with details of scientific discovery and anecdotes of human resilience in a harsh environment. Each participant in the Scott expedition is brought fully to life. Cherry-Garrard's recollections are supported by diary excerpts and accounts from other teammates.

Apsley Cherry-Garrard was only 24 when he set out on Scott's ill-fated Terra Nova expedition. The Worst Journey in the World is an awe-inspiring adventure, told in such a way that you feel the young man's wide-eyed wonder as your own. Cherry--as his friends called him--writes with a vigour and attention to detail and drama usually reserved for thrillers. The blizzards, storms at sea, killer whale attacks, sub-zero temperatures, and exhausting struggles with sled dogs, ponies, and yawning crevasses are vividly depicted.

The Worst Journey in the World is not solely devoted to the adventure and the final tragedy of finding Scott and his men frozen to death. Cherry takes time out to comment on the scientific significance of their work in Antarctica, of the need for exploration regardless of immediate results, and, in conclusion, of why Scott's return from the Pole ended so bitterly. These sections of the work put the adventure into perspective, so that not only do you experience the good and bad times with the expedition, you learn what ideals drove them and what was at stake with every piece of bad luck. Cherry-Gerrard was the only survivor of Scott's last journey to the South Pole, and was a member of the search party that later discovered the remains of Scott and his comrades.

>
Australia and Oceana – Australia
And now we travel to the arid outback desert of Australia. I'll never forget ample water supplies after reading this novel.
The Lost Man by Jane Harper
Published by Flatiron Books on December 31, 2019
Pages: 368
Buy on Bookshop
Goodreads



INSTANT NEW YORK TIMES BESTSELLERTwo brothers meet in the remote Australian outback when the third brother is found dead, in this stunning new standalone novel from Jane Harper
Brothers Nathan and Bub Bright meet for the first time in months at the remote fence line separating their cattle ranches in the lonely outback.

Their third brother, Cameron, lies dead at their feet.
In an isolated belt of Australia, their homes a three-hour drive apart, the brothers were one another's nearest neighbors. Cameron was the middle child, the one who ran the family homestead. But something made him head out alone under the unrelenting sun.
Nathan, Bub and Nathan's son return to Cameron's ranch and to those left behind by his passing: his wife, his daughters, and his mother, as well as their long-time employee and two recently hired seasonal workers.

While they grieve Cameron's loss, suspicion starts to take hold, and Nathan is forced to examine secrets the family would rather leave in the past. Because if someone forced Cameron to his death, the isolation of the outback leaves few suspects.

A powerful and brutal story of suspense set against a formidable landscape, The Lost Man confirms Jane Harper, author of The Dry and Force of Nature, is one of the best new voices in writing today.

>
East Asia – China
I am not strictly following continents, but have divided the world up into regions that make sense to me based on the available literature.
Lisa See always seems to write books that keep me looking things up. This book was especially so. I knew nothing about the Akha society and culture depicted in the book. Everything bout them was new to me – and completely original. Few people could encounter the Akha as they are depicted in this novel. They are just not accessible to tourism. I will never forget this book.
The Tea Girl of Hummingbird Lane by Lisa See
Published by Scribner on March 21, 2017
Pages: 384
Buy on Bookshop
Goodreads



From #1 New York Times bestselling author Lisa See, "one of those special writers capable of delivering both poetry and plot" (The New York Times Book Review), a moving novel about tradition, tea farming, and the bonds between mothers and daughters.

In their remote mountain village, Li-yan and her family align their lives around the seasons and the farming of tea. For the Akha people, ensconced in ritual and routine, life goes on as it has for generations—until a stranger appears at the village gate in a jeep, the first automobile any of the villagers has ever seen.

The stranger's arrival marks the first entrance of the modern world in the lives of the Akha people. Slowly, Li-yan, one of the few educated girls on her mountain, begins to reject the customs that shaped her early life. When she has a baby out of wedlock—conceived with a man her parents consider a poor choice—she rejects the tradition that would compel her to give the child over to be killed, and instead leaves her, wrapped in a blanket with a tea cake tucked in its folds, near an orphanage in a nearby city.

As Li-yan comes into herself, leaving her insular village for an education, a business, and city life, her daughter, Haley, is raised in California by loving adoptive parents. Despite her privileged childhood, Haley wonders about her origins. Across the ocean Li-yan longs for her lost daughter. Over the course of years, each searches for meaning in the study of Pu'er, the tea that has shaped their family's destiny for centuries.

A powerful story about circumstances, culture, and distance, The Tea Girl of Hummingbird Lane paints an unforgettable portrait of a little known region and its people and celebrates the bond of family.

>
South Asia – India
I just finished listening to A Fine Balance. The story takes a reader deep into the lives of regular people trying to make a life out of complicated expectations and societal rules. No typical tourist adventure in India can convey what was in this book.
A Fine Balance by Rohinton Mistry
Published by Random House LLC on July 21, 2010
Pages: 628
Buy on Bookshop
Goodreads



With a compassionate realism and narrative sweep that recall the work of Charles Dickens, this magnificent novel captures all the cruelty and corruption, dignity and heroism, of India.

The time is 1975. The place is an unnamed city by the sea. The government has just declared a State of Emergency, in whose upheavals four strangers--a spirited widow, a young student uprooted from his idyllic hill station, and two tailors who have fled the caste violence of their native village--will be thrust together, forced to share one cramped apartment and an uncertain future.
As the characters move from distrust to friendship and from friendship to love, A Fine Balance creates an enduring panorama of the human spirit in an inhuman state.

>
A note about Africa
Before we get to the books I recommend from Africa, I want to point out that I have divided the continent into four regions. Because Africa is not a country. If I have learned anything from my travels in Africa – real and literary – it is how huge the continent is and how vast regional and country differences are.
So – I broke Africa into 4 regions for our reading the world adventure:
North Africa and the Middle East, because the dominant Muslim religion and culture provides some unifying themes to the literature.
West Sub-Saharan Africa, because historically the cultures and tribes intersected often and this is the region where most of the African slave diaspora originated.
Southern Africa, because it also has a long interrelated history.
East Sub-Saharan Africa, because it has some cultural similarities and much of the culture is distinct from the other regions.
I realize this is arbitrary and many would disagree with my very simple reasons for the clustering of regions, but the primary point is to encourage readers to see Africa as the vast region it is with a vast amount of unique and excellent literature.
North Africa/Middle East – Egypt
The Map of Love has held a spot on my "special shelf" for almost 20 years. I loved this book.
The Map of Love: A Novel by Ahdaf Soueif
Published by Anchor on 2000 (first US publishing)
Buy on Bookshop
Goodreads



Booker Prize Finalist
"Sweeping and evocative--. An unconventional love story."--The Times (London)

With her first novel, In the Eye of the Sun, Ahdaf Soueif garnered comparisons to Tolstoy, Flaubert, and George Eliot. In her latest novel, which was shortlisted for Britain's prestigious Booker Prize, she combines the romantic skill of the nineteenth-century novelists with a very modern sense of culture and politics--both sexual and international.

At either end of the twentieth century, two women fall in love with men outside their familiar worlds. In 1901, Anna Winterbourne, recently widowed, leaves England for Egypt, an outpost of the Empire roiling with nationalist sentiment. Far from the comfort of the British colony, she finds herself enraptured by the real Egypt and in love with Sharif Pasha al-Baroudi.

Nearly a hundred years later, Isabel Parkman, a divorced American journalist and descendant of Anna and Sharif has fallen in love with Omar al-Ghamrawi, a gifted and difficult Egyptian-American conductor with his own passionate politics. In an attempt to understand her conflicting emotions and to discover the truth behind her heritage, Isabel, too, travels to Egypt, and enlists Omar's sister's help in unravelling the story of Anna and Sharif's love.

Joining the romance and intricate storytelling of A.S. Byatt's Possession and Michael Ondaatje's The English Patient, Ahdaf Soueif has once again created a mesmerizing tale of genuine eloquence and lasting importance.
From the Trade Paperback edition.

>
West Africa – Nigeria
Chimamanda Ngozie Adichie has become one of the most influential Nigerian authors and if you read any book by her I suggest Half of a Yellow Sun. I knew little about the Biafran conflict before I read this book but feel like it is an essential part of global history we should all understand.
Half of a Yellow Sun by Chimamanda Ngozi Adichie
Published by Anchor on November 12, 2008
Buy on Bookshop
Goodreads



With effortless grace, celebrated author Chimamanda Ngozi Adichie illuminates a seminal moment in modern African history: Biafra's impassioned struggle to establish an independent republic in southeastern Nigeria during the late 1960s. We experience this tumultuous decade alongside five unforgettable characters: Ugwu, a thirteen-year-old houseboy who works for Odenigbo, a university professor full of revolutionary zeal; Olanna, the professor's beautiful young mistress who has abandoned her life in Lagos for a dusty town and her lover's charm; and Richard, a shy young Englishman infatuated with Olanna's willful twin sister Kainene. Half of a Yellow Sun is a tremendously evocative novel of the promise, hope, and disappointment of the Biafran war.

>
East Africa – Burundi
This book transports the reader into the lives of some ordinary boys coming of age in one of the smallest countries in Africa. I just loved the descriptions of the neighborhoods, the mango trees, the landscape. This was a beautiful book. It also portrays the Rwandan genocide from the point of view of a neighboring country.
Small Country by Gaël Faye, Sarah Ardizzone
Published by Random House LLC, Hogarth on August 24, 2016
Buy on Bookshop
Goodreads



Already an international sensation and prize-winning bestseller in France, an evocative coming-of-age story of a young boy, a lost childhood and a shattered homeland.

Burundi, 1992. For ten-year-old Gabriel, life in the comfortable expatriate neighborhood of Bujumbura with his French father, Rwandan mother, and little sister, Ana, is something close to paradise. These are happy, carefree days spent sneaking cigarettes and stealing mangoes, as he and his mischievous gang of friends transform their tiny cul-de-sac into their kingdom.
But dark clouds are gathering over this small country - and their peaceful idyll will soon shatter when Burundi, and neighboring Rwanda, are brutally hit by war and genocide.

Small Country describes an end of innocence as seen through the eyes of a young child caught in the maelstrom of history. A luminous novel of extraordinary power, it is a stirring tribute not only to a dark chapter in Africa's past, but to the bright days that preceded it.

>
Southern Africa – South Africa
Trevor Noah's memoir is way more than a memoir. I suggest you listen to the book if possible, because Trevor is the narrator and his delivery of the stories and anecdotes is memorable. There were times I spewed my coffee I laughed so hard, but at the same time no other book I have read portrays poverty, apartheid and the European colonization of Africa with the same poignancy. This is an exceptional book.
Born a Crime: Stories from a South African Childhood by Trevor Noah
Published by Random House LLC on November 15, 2016
Buy on Bookshop
Goodreads



The compelling, inspiring, and comically sublime story of a young man's coming-of-age, set during the twilight of apartheid and the tumultuous days of freedom that followed Trevor Noah is one of the comedy world's brightest new voices, a light-footed but sharp-minded observer of the absurdities of politics, race, and identity, sharing jokes and insights drawn from the wealth of experience acquired in his relatively young life.

As host of The Daily Show with Trevor Noah, he provides viewers in America and around the globe with their nightly dose of biting satire, but here Noah turns his focus inward, giving readers a deeply personal, heartfelt, and humorous look at the world that shaped him. Noah was born a crime, the son of a white Swiss father and a black Xhosa mother, at a time when such a union was punishable by five years in prison. Living proof of his parents' indiscretion, Trevor was kept mostly indoors for the first years of his life, bound by the extreme and often absurd measures his mother took to hide him from a government that could, at any moment, take him away.

Finally liberated by the end of South Africa's white rule, Trevor and his mother set forth on a grand adventure, living openly and freely and embracing the opportunities won by a centuries-long struggle. A collection of eighteen personal essays, Born a Crime tells the story of a mischievous young boy who grows into a restless young man as he struggles to find himself in a world where he was never supposed to exist.

Born a Crime is equally the story of that young man's fearless, rebellious, and fervently religious mother—a woman determined to save her son from the cycle of poverty, violence, and abuse that ultimately threatens her own life. Whether subsisting on caterpillars for dinner during hard times, being thrown from a moving car during an attempted kidnapping, or just trying to survive the life-and-death pitfalls of dating in high school, Noah illuminates his curious world with an incisive wit and an unflinching honesty. His stories weave together to form a moving and searingly funny portrait of a lovable delinquent making his way through a damaged world in a dangerous time, armed with only a keen sense of humor and a mother's unconventional, unconditional love.

>
Europe – France
So many books to chose from. But I wanted to pick a book that you likely have not read and that gives a sense of place to a region you may not know about. This book delivers and is one that has compelled me to look up the town and the ochre mines on a map and add it to the list of places I will visit someday.
Lisette's List by Susan Vreeland
Published by Random House on August 26, 2014
Pages: 433
Buy on Bookshop
Goodreads



From Susan Vreeland, bestselling author of such acclaimed novels as Girl in Hyacinth Blue, Luncheon of the Boating Party, and Clara and Mr. Tiffany, comes a richly imagined story of a woman's awakening in the south of Vichy France—to the power of art, to the beauty of provincial life, and to love in the midst of war.
In 1937, young Lisette Roux and her husband, André, move from Paris to a village in Provence to care for André's grandfather Pascal. Lisette regrets having to give up her dream of becoming a gallery apprentice and longs for the comforts and sophistication of Paris. But as she soon discovers, the hilltop town is rich with unexpected pleasures.

Pascal once worked in the nearby ochre mines and later became a pigment salesman and frame maker; while selling his pigments in Paris, he befriended Pissarro and Cézanne, some of whose paintings he received in trade for his frames. Pascal begins to tutor Lisette in both art and life, allowing her to see his small collection of paintings and the Provençal landscape itself in a new light. Inspired by Pascal's advice to "Do the important things first," Lisette begins a list of vows to herself (#4. Learn what makes a painting great). When war breaks out, André goes off to the front, but not before hiding Pascal's paintings to keep them from the Nazis' reach.

With German forces spreading across Europe, the sudden fall of Paris, and the rise of Vichy France, Lisette sets out to locate the paintings (#11. Find the paintings in my lifetime). Her search takes her through the stunning French countryside, where she befriends Marc and Bella Chagall, who are in hiding before their flight to America, and acquaints her with the land, her neighbors, and even herself in ways she never dreamed possible. Through joy and tragedy, occupation and liberation, small acts of kindness and great acts of courage, Lisette learns to forgive the past, to live robustly, and to love again.

>
North America – United States
Again – so many options in English language literature, so where to start? I have read books from every state of the USA multiple times over, and many from Canada and Mexico. But I will start with the Midwest and a book I recently finished that immediately went onto my "special shelf". If you want to understand people from the Midwest (especially Iowa and Minnesota), read this book. Even if you didn't think you wanted to know about the culture from this region, read the book. Because it is that good.
The Lager Queen of Minnesota by J. Ryan Stradal
Published by Penguin Group (USA) LLC on July 23, 2019
Buy on Bookshop
Goodreads




A National Bestseller!

"The perfect pick-me-up on a hot summer day." --Washington Post "[A] charmer of a tale. . . Warm, witty and--like any good craft beer--complex, the saga delivers a subtly feminist and wholly life-affirming message."
--People Magazine

A novel of family, Midwestern values, hard work, fate and the secrets of making a world-class beer, from the bestselling author of Kitchens of the Great Midwest

Two sisters, one farm. A family is split when their father leaves their shared inheritance entirely to Helen, his younger daughter. Despite baking award-winning pies at the local nursing home, her older sister, Edith, struggles to make what most people would call a living. So she can't help wondering what her life would have been like with even a portion of the farm money her sister kept for herself.

With the proceeds from the farm, Helen builds one of the most successful light breweries in the country, and makes their company motto ubiquitous: "Drink lots. It's Blotz." Where Edith has a heart as big as Minnesota, Helen's is as rigid as a steel keg. Yet one day, Helen will find she needs some help herself, and she could find a potential savior close to home. . . if it's not too late.

Meanwhile, Edith's granddaughter, Diana, grows up knowing that the real world requires a tougher constitution than her grandmother possesses. She earns a shot at learning the IPA business from the ground up--will that change their fortunes forever, and perhaps reunite her splintered family?

Here we meet a cast of lovable, funny, quintessentially American characters eager to make their mark in a world that's often stacked against them. In this deeply affecting family saga, resolution can take generations, but when it finally comes, we're surprised, moved, and delighted.

>
South & Central America & the Caribbean – Ecuador
I had a hard time picking this book, but after a discussion with my daughter, who just finished a copy of the book I sent her, decided this was a good place to start. This is the book that will transport you deep into the Amazonian jungle in a way you will not likely replicate in real life.
The Old Man Who Read Love Stories by Luis Sepúlveda
Published by Mariner Books on July 14, 1995
Pages: 144
Buy on Bookshop
Goodreads



In a remote river town deep in the Ecuadoran jungle, Antonio José Bolívar seeks refuge in amorous novels. But tourists and opportunists are making inroads into the area, and the balance of nature is making a dangerous shift. Translated by Peter Bush.

>
Multi-Region: India, Italy, Canada
The Braid: A Novel by Laetitia Colombani
Published by Simon and Schuster on May 10, 2017
Buy on Bookshop
Goodreads



In this unforgettable international bestseller, three women from very different circumstances around the world find their lives intertwined by a single object and discover what connects us—across cultures, across backgrounds, and across borders.

In India, Smita is an untouchable. Desperate to give her daughter an education, she takes her child and flees her small village with nothing but resourcefulness, eventually heading to a temple where she will experience a rebirth.

In Sicily, Giulia works in her father's wig workshop, the last of its kind in Palermo. She washes, bleaches, and dyes the hair provided by the city's hairdressers, which is now in short supply. But when her father is the victim of a serious accident, she discovers that the company's financial situation is dire. Now she must find a way to save her family's livelihood.

In Canada, Sarah is a successful lawyer and twice-divorced mother of three children whose identity is wrapped up in her work. Just as she expects a big promotion, her life is shattered when she's diagnosed with cancer.

A moving novel of hope and renewal, The Braid is a celebration of womanhood and the power of connection and perseverance.

>
"We travel, some of us forever, to seek other states, other lives, other souls."

― Anaïs Nin, The Diary of Anaïs Nin, Vol. 7: 1966-1974
Ready to join the fun? Download your free printable "Reading the World" checklist and subscribe to my email list
If you are already a subscriber to my newsletter, click the button to access your printable.
If you are not yet a subscriber, click the link below and you will soon receive your free printable list too.
Click here to receive your printable booklist
Finally – Please use the buttons at the top and bottom of this article to share this post so more friends can join the journey. And add a comment if you are joining in – even if it is only to read one book. If you have additional book suggestions add them too. I LOVE comments. These days it is one of my only connections with the outside world.